This eBook is not a "how-to" manual on Photoshop.  There  are many of those already on the market and a quick search on Amazon or Google will turn up many, many choices.  In  fact, I'm going to assume that you have a basic knowledge of the program.  This eBook is a discussion of techniques that I personally use as I process my files with Photoshop.
While this eBook is based on Photoshop CS5, most of the techniques work with earlier versions of Photoshop, and many will work with Elements.
This eBook is a downloadable PDF, accessible by both Windows and Macs.
TABLE OF CONTENTS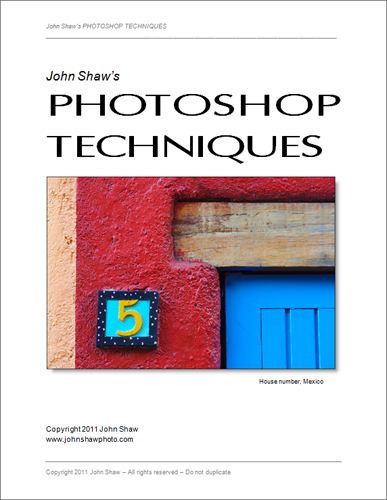 GET ORGANIZED
A ROAD MAP
ETTR: EXPOSE TO THE RIGHT
FIX CHROMATIC ABBERATION
MASKING
COLOR RANGE SELECTION – PART ONE
COLOR RANGE SELECTION – PART TWO
COLOR RANGE SELECTION TO TONE DOWN THE WHITES
BASIC MASKING TO BLEND FOCUS AND EXPOSURE
REFINE EDGE
WORKING A MASK
TWO RAW CONVERSIONS TO EXTEND DYNAMIC RANGE
MASKING: CHANNELS AND LUMINOSITY
USING LAB LAYERS TO PAINT IN SATURATED COLOR
CONTENT-AWARE SCALE
CONTENT-AWARE FILL
LOCALIZED SHARPENING WITH THE HIGH PASS FILTER
AUTO-BLEND AND DEPTH OF FIELD
BLURRING THE BACKGROUND
PANORAMIC IMAGES: PHOTOMERGE
KNOCKOUT COLOR IN A BLACK AND WHITE IMAGE
TEN WAYS TO REMOVE A COLOR CAST
MAKE A BRUSH
MAKE A PRESENTATION FRAME
SOFT PROOFING
IMAGE PROCESSOR
MAKE A PDF ELECTRONIC BOOK
KEEPING PHOTOSHOP HAPPY

172 pages – Price $15