At every workshop I teach, someone always complains that "Lightroom lost my pictures."  Well, not exactly true.  There are no pictures actually stored in Lightroom.  Lightroom is a database of the last known location for those pictures.  Remember library card catalogs?  They told you where a book was located on a certain shelf.  But if someone moved the book, how was the card catalog to know?  It's the same with Lightroom.
If you move an image file outside of Lightroom — using your operating system's tools (Move or Copy) — Lightroom has no idea what you have done.  There is no way that it can know.
Consequently, the next time you look in Lightroom for that image there will be a ? thumbnail badge.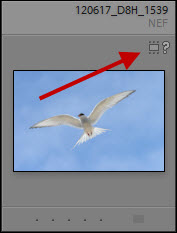 Click on that badge and a dialogue box opens.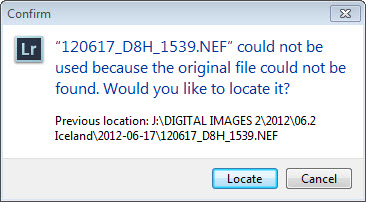 Click on the Locate button and navigate to wherever you moved the image.  If you have several missing images and they are all from the same folder, locating one will automatically locate all the others.  If they are from multiple folders, you'll have to locate each individual image.
If you have used your operating system to move a folder of images, the folder in Lightroom will have the ? thumbnail badge.
Right-click on the ? badge, and you get this option:

 Select Find Missing Folder, and either Window's Explorer or Mac's Finder will open.  Navigate to the missing folder and select it.  Lightroom will now be reconnected to the folder, and the ? badge will be removed from both the folder and the images within that folder.